WLN 2021 Fall Conference "Celebrating Our Nursing Heroes" ON DEMAND recordings now available!
Info
Topic
Enhancing clinical judgment, NCLEX prep and transition to practice, "Surviving the Nursing School Tornado", Escape Rooms demonstration, "Celebrating ALL Our Nursing Heroes"
Speaker(s)
Kathleen Poindexter, NLN Chair Board of Directors, Karin Sherrill, Judith Herrman, Mary Meyers, Christine Sump
Attachments
---
Additional Information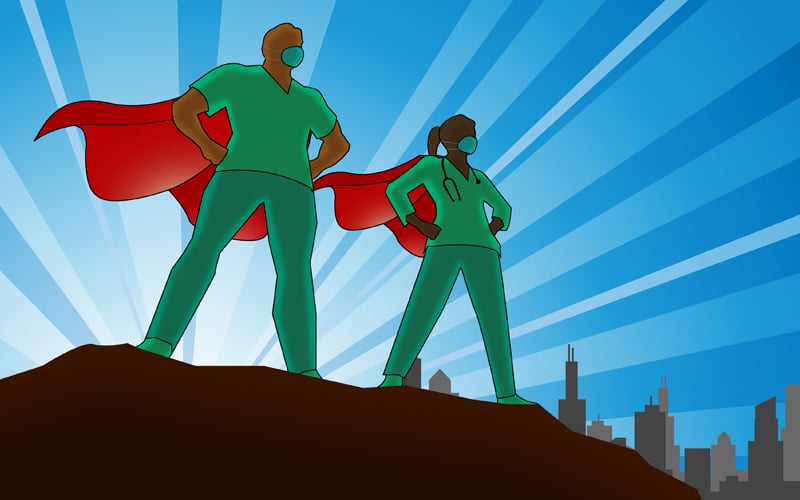 Image credit: https://blog.meditech.com/recognizing-the-not-so-everyday-heroism-of-nurses
Announcing the Wisconsin League for Nursing 2021 Fall Conference
"Celebrating Our Nursing Heroes"
Held on October 22 - 23, 2021

 VIRTUAL and LIVESTREAMED event recordings are now available! 

Visit the Fall Conference website any time to view all exciting details from the conference:  wlnconferences.org
C

e

lebrating the resiliency and professionalism of all nurses as we emerge from the pandemic thriving, moving beyond surviving!
New this year : 
Reaching out to our soon-to-be nurses with special sessions planned especially for pre-licensure students.  FREE registration for the conference for all prelicensure students.  The WLN supports your transition to practice during these unprecedented times of the pandemic.

Conference Topics and Speakers

Check out the attached AGENDA booklet for session recordings available for ON DEMAND viewing until January 31, 2022 at 11:59 PM
Friday October 22, 2021
Christine Sump, DNP, RN, CNE
Assistant Clinical Professor

Old Dominion University. Virginia Beach, Virginia
Title: "Escape Rooms as a Teaching Strategy for Engaging Nurses and Students in
Critical Thinking and Enhancement of Clinical Judgment"
Friday Session 7:45 PM - 9 PM
Saturday October 23, 2021
Judith Herrman, PhD, RN, CNE, ANEF, FAAN
Author, Educator, Nurse Think Nursing Education Consultant
Title: "Preparing for Professional Nursing Practice through NCLEX Prep and Successful Transition to Practice"
(special student and nurse educator/staff development session) Saturday morning 8 AM - 11:30 AM

Concurrent Session Number 1

Karin Sherrill, RN, MSN, CNE, ANEF, FAADN
Faculty and Student Success Consultant Nurse Think
Arizona League for Nursing Past President and Communications Director
Title: "Establishing Clinical Judgment from the Start of Nursing School through Completion of Hospital Onboarding and Beyond"
Saturday morning session 8 AM - 11:30 AM
Concurrent Session Number One
Noon - 12:45 PM
Gala Luncheon Celebration 
Keynote address:  Dr. Kathleen Poindexter, PhD, RN, CNE, ANEF
NLN President - Chair Board of Governors
Title:  "Celebrating Success with All Our Nursing Heroes"
Keynote Address Saturday Noon - 12:30 PM
Special award recognition for DAISY Award for Excellence in Clinical Nurse Education for clinical nurse educator and academic nurse educator

Joining the celebration members of the DAISY Award Foundation leadership team

Saturday 12:30 PM - 12:45 PM
 Saturday afternoon session

Mary Meyers, CSJ, MSN, BA, MS, RN, AGNP-C
Remediation Coordinator and Success Coach
Duquesne University School of Nursing, Pittsburgh, PA
Title: "Classes and Patients and Boards, Oh My! Strategies to Survive and Thrive in the Nursing School Tornado"
(special student and nurse educator session) Saturday afternoon 12:45 PM - 1:45 PM

Conference registration for ON DEMAND virtual sessions:
$50 for WLN member, NLN Constituent League member, or NLN Institutional member

$90 for non-member (includes a discounted one-year membership for new WLN membership) (open to nurses and non nursing professionals)
$75 for general admission
Special institutional bulk registrations are available.  Contact mrommelwln@gmail.com for bulk package rates.
Special prelicensure student admission: FREE
Registration for all students please copy/paste the following url and complete the short registration form https://lp.constantcontactpages.com/sv/n9YOQu3

Live life when you have it.
Life is a special gift --
There is nothing small about it.
--Florence Nightingale